The following article is from The Daily Times Chronicle
By RYAN LAROCHE Mar 11, 2022
Reading native Tyler Walsh, currently a senior studying Broadcast Journalism at the University of Miami (or "The U" as students commonly refer to it), just received some exciting news: he, along with his team, was nominated by the Television Academy Foundation's prestigious 41st College Television Awards.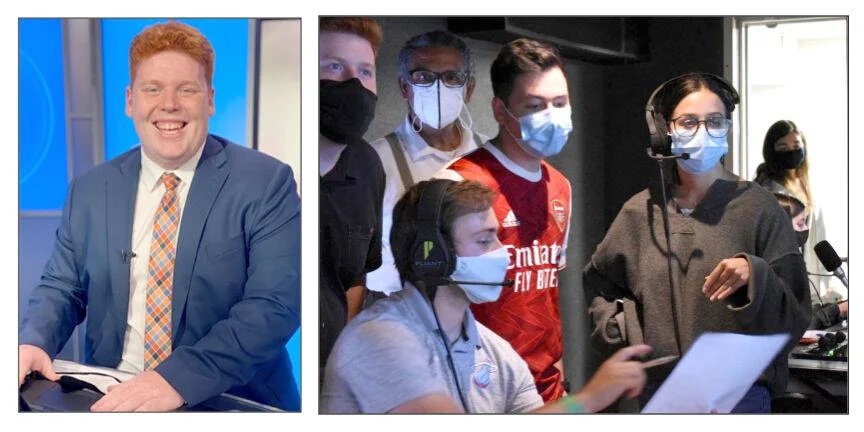 These awards recognize and reward excellence in student-produced programs from colleges and universities nationwide. Winners in the competition will be announced by television stars including Outlander's Sam Heughan, Schmigadoon!'s Dove Cameron, Ghosts' Rose McIver, and Bel-Air's Jordan L. Jones at the awards ceremony on March 26.
Walsh, an executive producer, received the nomination in the News and Sports category for his writing on UMTV NewsVision, which is UMTV's student-produced news show airing live each week.
The Reading native told the Television Academy Foundation, "We are committed to finding stories that matter and directly impact the audience. I worked directly with the executive producers for this edition to help stack the rundown, copy and edit the stories and tie together loose ends with packages and other elements."
Walsh added, "To be nominated for a College Television Award is the biggest honor one can attain in a collegiate setting as a broadcast journalism student."
A total of 54 students have been nominated in six categories for the 2022 awards selected from 185 entries submitted from 58 colleges nationwide.
Speaking to Middlesex East, Walsh expressed his shock and excitement upon receiving the news, saying, "It was a crazy feeling. My friend Gianna actually texted all of us in a group chat and let us know that NewsVision and UMTV SportsDesk had been nominated and I was freaking out. I couldn't believe it. We knew the odds were slim this year because CTAs had merged a few categories, but the fact that we made it, it's just an honor to be nominated. I think it's a testament to all the hard work everyone on UMTV does."
Walsh credits his team with UMTV's success. He called teamwork everything with NewsVision.
"If there's a weak spot in the show technically or editorially, it sticks out and it reflects on all of us. On a brighter note, when things go right, it reflects on us. Team work is huge, I am a big team player I like to think, and I encourage everyone on the show to be a team player."
The University of Miami senior started on this path at 10-years old. He stated out participating in summer camps at Reading Community Television and "fell in love" with live TV production.
"I love the energy in the live TV environment," he said.
From there, he moved onto working with the Parker Middle School (Parker News Live) and then in high school at Austin Prep (Austin Focus). Once he arrived at "The U" he joined UMTV and has been doing it ever since.
Although nominated in the News and Sports category, Walsh calls himself a "general news guy" who "dabbled in sports" but is predominantly interested in news.
Upon joining UMTV, Walsh saw his role within the station grow. He said last year he did almost everything. He wrote the stories for the newscasts, copyedited, assisted in stacking rundowns, and made sure things in the control room ran smoothly during the shows.
This year, his role increased even more, from associate producer to executive producer. This means he does everything plus organizes meetings, takes the lead on stacking rundowns, assigns content to reporters, and picks the stories for the shows.
"I did come into UM as an on-air guy, but fell in love with producing these last two years," Walsh said about how he came to be behind the camera. "There's just such a thrill I get from stacking a rundown, especially, and line producing during a live show to make sure we are good on time. Producing is end game for me, for sure."
He noted how UMTV is almost entirely student-run. He said each show has a faculty advisor to assist with the whole process, "but it's pretty much in the hands of the students."
Before getting to the University of Miami, Walsh graduated from Austin Prep in Reading. His decision to bypass Reading Memorial High School wasn't really even his.
"I originally actually wanted to go to RMHS when I was deciding in 8th grade. However, my parents wouldn't let me. They didn't want me to go to RMHS."
According to the Austin Prep grad, his parents never told him why they chose the preparatory school for him, but he said, "I am so glad that they held me back on this one."
Walsh admitted how tough middle school can be for anyone, including himself.
"I wasn't that confident, I definitely wasn't the guy who was getting along with everyone, and I struggled. It was a struggle at Parker Middle School, and had I gone to RMHS, the story of Tyler Walsh would be a lot different right now."
He added how going to RMHS means he probably would have missed out on the University of Miami and becoming the person he is today. He called going to Austin Prep "the best thing that ever happened to me."
He continued, "I found myself, I strived socially, and I started to get that confidence that I now have here as a senior in college."
He said he jokes around wishing young Tyler could see who 22-year old Tyler became. And the 22-year old version of himself received support from so many people, he said, but especially the team at RCTV including Phil Rushworth, the executive director.
"(He) never gave up on me and even when I was being the classic middle schooler, Phil always believed in me and saw my value in the industry."
Walsh also shouted out specific teachers at Parker Middle School such as Robyn Ferrazani, the teacher in charge of Parker News Live, who he said supported and pushed him "in ways unimaginable" and former psychologist Diane Ketlak, who "always saw the knack I had for TV and was there for me during my toughest moments at Parker."
At Austin Prep, he mentioned Rob Taylor, whom he called a mentor and said "pushed me hard," resulting in him currently studying at The U.
"Lastly, my faculty advisor for UMTV NewsVision Boriana Treadwell has been my TOUGHEST supporter yet. We constantly find ourselves butting heads at times, but at the end of the day, there's still an undying mutual respect in that she's trying to push me to be the best producer I can. And, wow, she certainly has."
It wasn't always a given that Walsh would end up at the University of Miami. He said the school waitlisted him, so he looked into several other schools such as Syracuse, Boston University and Suffolk. He chose Suffolk for their Broadcast Journalism program. However, after he committed on April 1, Miami called him on April 25 and offered him a spot.
"I think about it for a few hours, and it was a chance I couldn't pass up. The Broadcast program was super strong, and I wanted to go to a school with a huge emphasis on student life."
He said his mom was "horrified" for him to go, but both she and his father supported his decision and continue to give their support to this day.
Once he graduates, Walsh said he thought about returning home to the Boston area; however, as he's currently an intern with NBC Nightly News with Lester Holt, he now feels he could start off as a production assistant or researcher at a national outlet in New York City or Washington D.C.
"Sorry, mom," Walsh joked.
The awards ceremony will be held in conjunction with the Foundation's College Television Summit, a three-day, educational event featuring panel discussions with media-industry leaders. The Summit is made available virtually and free of charge to college media arts students nationwide. The 2022 College Television Awards ceremony and the Summit will be held March 24-26.
The virtual awards show is free to watch and advance registration is recommended. Donations to support Television Academy Foundation programs are also encouraged. To register and provide support visit: TelevisionAcademy.com/cta/register.